Sri Padmavathi Temple Tirupati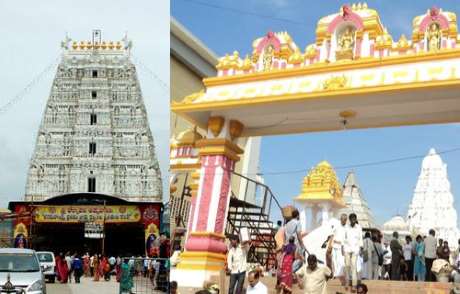 Sri Padmavathi Ammavari Temple, Tirupati - Timings, Entry Fee etc.,
Padmavathi Temple is the temple dedicated to Goddess Padmavathi or Alamelumanga, the consort of Lord Venkateswara. The Temple is situated in Tiruchanur, at a distance of 5 km from Tirupati in Chittoor district of Andhra Pradesh, India. The Temple is being administered by Tirumala Tirupati Devasthanams.
It is believed that the Goddess Lakshmi was born as Alamelu to Akasha Raja, the ruler of this region, and wed Venkateshwara of Tirupati. Goddess Lakshmi gave darshan to Lord Venkateswara on a red Lotus flower (Padma in Sanskrit) at Alamelu mangapuram after his deep penance for twelve years. According to tradition, the Mother Goddess manifested Herself in the holy Pushkarini called Padmasarovaram in a golden lotus. The Venkatachala Mahatyam states that Lord Suryanarayana was instrumental in blossoming of the lotus in full splendour. A temple dedicated to Lord Suryanarayana is situated on the eastern side of the Pushkarini. The Padma Purana gives a vivid description of the advent of the Goddess and subsequent wedding with Lord Srinivasa.The manifestation of Sri Padmavathi Devi occurred in the month of Karthika on Sukla Paksha Panchami when the star Uttarashada in the ascendent. The Brahmotsavam of the Goddess is celebrated with all pomp and glory to commemorate the auspicious occasion of Her avatara.
Daily Pooja / Arjita Sevas Timings & Fee
Name of the Seva
Timings
Fee
Suprabhatam
5:00 AM
5:30 AM (Fridays)
Rs. 25/- per head
Sahasranamarchana
5:30 AM
4:00 AM (Fridays)
Rs. 25/- per head
Padmavathi Parinayam (Kalyanotsavam)
10:30 AM
Rs. 500/
Unjala Seva
5:00 PM to 6:00 PM
6:00 PM to 7:00 PM (Fridays)
Rs. 116/-
Kumkumarchana
10:00 AM to 11:00 AM
3:00 PM to 4:00 PM
7:00 PM to 8:00 PM
Rs.200/-
Ekantha Seva
9:00 PM
Rs. 25/- per head
Sarvadarsanam
7:00 AM to 6:00 PM
7:00 PM to 9:00 PM
-
Veda Aseervachanam
7:00 AM to 6:00 PM
7:00 PM to 9:00 PM
Rs. 500/-
Weekly Pooja / Sevas Timings & Fee
Name of the Seva
Timings
Day
Fee
Astadala Pada Padmaradhanam
6:45 AM
Monday
Rs.300/- per head
Tiruppavada Seva
7:00 AM
Thursday
Rs.600/- per head
Abhishekam
5:30 AM
Friday
Rs.400/- per head
Sri Lakshmi Puja
on Uttarasada Nakshtram
9:00 AM
Friday
Rs.116/- per head
Sahasra Deepalankara Seva
5:00 PM
Friday
Rs.100/- per head
Pushpanjali Seva
6:45 AM
Saturday
Rs.200/- per head
Vastralankara Seva
5:30 AM
Friday
Rs.10,000/
Monthly Pooja / Sevas Timings & Fee
Name of the Seva
Time
Day
Fee
Astothara Sata
Kalasabhishekam
6:45AM
1st Wednesday of
Every Month
Rs.1000/-
per head
Address:
Sri Padmavathi Ammavari Temple,
Konetikatta Street,
Tiruchanoor,
Alivelu Mangapuram,
Tirupati,
Andhra Pradesh 517503,
India.
Distance:
5 Kms from Tirupati RTC Bus stand
5.5 Kms from Tirupati Railway station
Entry Fee:
Special Entrance: Rs.20/Person
V.I.P Darshan: Rs.100/Person
Phone: +(91)-877-2233333>
+(91)-877-2277777, 2264252>